McArthur Recruitment
Best people fit.
It is a small phrase with a big impact and drives the way McArthur thinks, works and engages. Most importantly, it also ensures we deliver two clear promises to you:
Job opportunities that fit your skills, experience, individual needs and aspirations.
Connections with employers who are a cultural, professional and personal fit with you.
Looking for a job? Find the opportunity that fits you best
Find Employment with McArthur Recruitment
With over 50 years of experience as one of Australia's premier recruitment agencies, we offer unparalleled expertise in executive, permanent, temporary, and contract recruitment, as well as HR consulting services.
We're passionate about supporting local organisations and communities, providing personalised, hands-on support to organisations across the country. As a 100% Australian-owned and family-operated business, we have deep expertise in various sectors, having built lasting relationships with over 1,600 active clients, ranging from government agencies to community service organisations. Our team members possess an unmatched and intimate understanding of the unique needs and challenges faced by purpose-driven organisations.
Whether you're looking for a job, making a career change, or need help sourcing talent for your organisation, our consultants are ready to assist.
Send us your resume
Register your details and send your resume to us and we'll keep you in touch with all the best job opportunities.
Register
Search for a job
For those making a career change or looking to elevate their position, browse casual, part time, full time and temporary job opportunities around Australia.
Search
Contact our team
Whether you are looking for a job agency near you or want to find top talents to join your team, send us a message.
Contact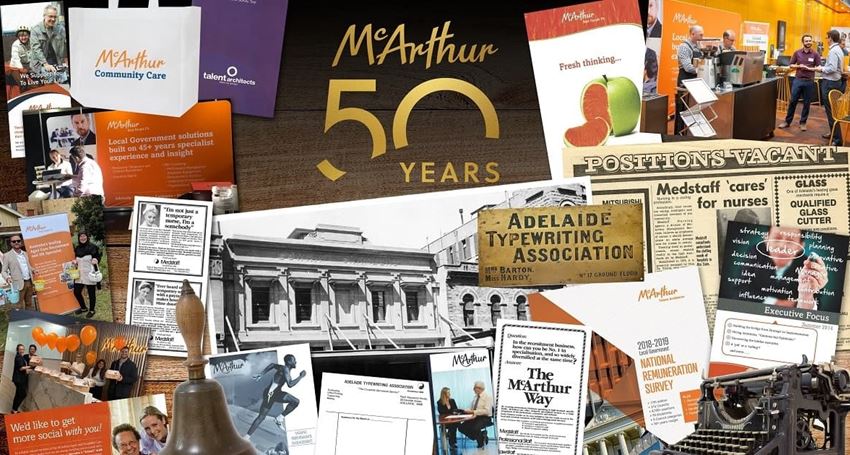 Our Story at McArthur Recruitment
McArthur is one of Australia's most respected HR Consulting specialists and recruitment agencies.
With over 50 years of experience and achievement behind us, we now employ over 150 focused professionals, including 110+ experienced recruitment specialists, across Australian Capital Territory, New South Wales, Queensland, South Australia and Victoria.
Check out the video or learn more about us below.
Our Services for Organisations as One of the Leading Recruitment Agencies in Australia
Recruitment Services: Permanent, Temporary, and Contract Recruitment
At McArthur, our specialist recruitment consultants leverage their intimate understanding of your industry to find candidates whose values, philosophies, and ambitions align with your organisation's mission. You can trust that we'll deliver the "Best People Fit" to make a lasting, positive impact on your organisation.
HR Consulting Services
Our HR consulting services are designed to support your organisation in achieving its strategic objectives while maintaining a strong focus on social impact. Each experienced consultant will work closely with you to understand your unique challenges, goals, and culture, providing tailored solutions that drive meaningful results.
The Candidate Pool within Our Job Agency
McArthur's 20,000+ job-ready, qualified candidates have been carefully selected through a thorough screening and selection process. We invest time in understanding their values, skills, and aspirations to ensure they align with your organisation's culture and mission.
So, if you're looking for a job or considering a career change, McArthur Recruitment is the perfect partner to help you find your purpose-driven opportunity.
Making a Career Change? Need Help with Talent Recruitment? Contact McArthur Today
Whether you're an employer seeking top talent or a job seeker looking for a purpose-driven career, McArthur is proud to be one of the leading recruitment agencies in Australia. Please feel encouraged to get in touch with one of our specialist consultants today.