Intensive Training on NDIS Support Coordination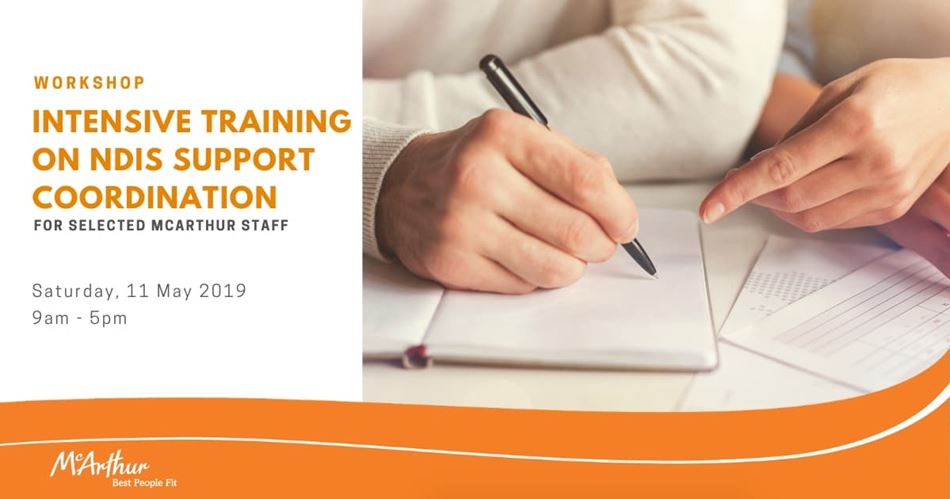 NDIS support coordination role
As defined by the National Disability Insurance Scheme (NDIS), a Support Coordinator will assist participants to use their plan to achieve their goals, live more independently, increase their skills and be included in the community and in employment. Support Coordination is one of the most important and least understood NDIS support categories.
According to the latest NDIS Quarterly Report, there has been a strong growth in the number of participants entering the Scheme exceeding its operational targets. Subsequently, there is an increasing demand in the number and service quality of professional NDIS Support Coordinators.
Intensive, targeted training workshop on NDIS support coordination
McArthur prides to be a long-term recruitment partner with service providers and provide career solutions to professionals in Aged Care and Disability sector in Australia. As an industry leader, we have identified a gap in a number of skilled NDIS Support Coordinators available for locum work. We, hence, have sourced a group of staff and candidates who are passionate about working as Support Coordinators and have transferrable skills and experience in Aged Care and Disability.
To support these candidates in diversifying their skills, sharing their knowledge and developing their career, McArthur offers 1-day intensive, targeted training session delivered by an industry specialist to all selected candidates and staff.
This workshop includes information about NDIS overview, principles and updates, support coordination responsibilities and best practice in NDIS planning, activating and reporting procedure. Our industry specialist will also explain challenges and issues may occur during a NDIS plan cycle and highlight the focus on enhancing participant experience.
The session aims to empower our future support coordinators with knowledge and transferable skills to support people with disability and participants throughout their NDIS journey.
---
Details of the event:
Time: 9am – 5pm
Date: Saturday, 11th May 2019
Location: McArthur Melbourne office
Selected McArthur team members will receive personal invitations to attend this workshop
---
Looking for an opportunity in Aged Care sector
Check out our current available positions
Share this Article