Huntington's Disease May Awareness Month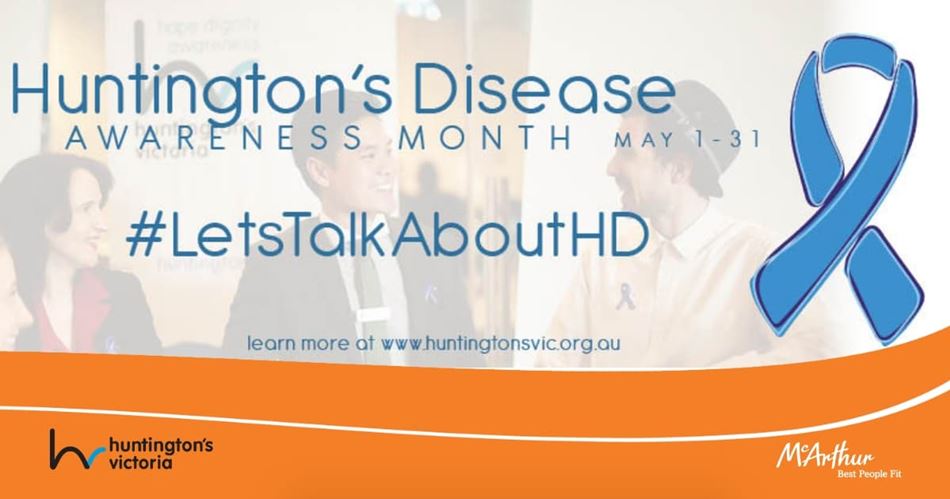 About Huntington's Disease
Huntington's Disease is an incurable brain disease caused by a faulty gene, with symptoms frequently described as a combination of Motor Neuron disease, Alzheimer's disease, Parkinson's disease and schizophrenia.
In more details, Huntington's disease results in brain cell death, affecting the basal ganglia and frontal lobe regions of the brain. These regions are responsible for motor movement control and coordination, cognition, personality and emotions. Deterioration in these regions of the brain results in significant impairments in one's ability to think, feel and move.
About Huntington's Victoria
Huntington's Victoria is a not-for-profit organisation that was formed by several Huntington's disease community members in 1973 to provide a safe, trusted space to receive support. As the leading specialist service that supports individuals impacted by Huntington's disease, the organisation's mission aims to sustain a high quality of life for people affected by Huntington's disease, their carers and their family, while encouraging research towards a cure.
Huntington's Victoria's specialist Client Support Services team connects those impacted by Huntington's disease (HD) with services and support, including support for families and carers. Additionally, the team provides information and advice around HD and educates health professionals and direct care staff about how to best support those affected by HD. Huntington's Victoria works with individuals of all ages.
About Huntington's Disease Awareness Month
May is Huntington's Disease Awareness month. McArthur is proud to support Huntington's Victoria movement to raise essential awareness, understanding and educate Australians on what Huntington's Disease is.
The Community Day is one of major events during May Awareness month. The event creates a connecting platform where you can hear researchers, medical professionals and community members speak about their expert subjects. There will also be a panel discussion to provide more information about the National Disability Insurance Scheme (NDIS) including pre-planning, planning, implementation and review process.
---
Event details and registration:
Date: Saturday, 18 May 2019
Starting time: 10am
Venue: Kenneth Myer Building, 30 Royal Parade, Parkville, VIC 3052
Cost: FREE
To join this free and informative Community Day click on the registration link
---
Share this Article