2022 LGPro VIC Annual Conference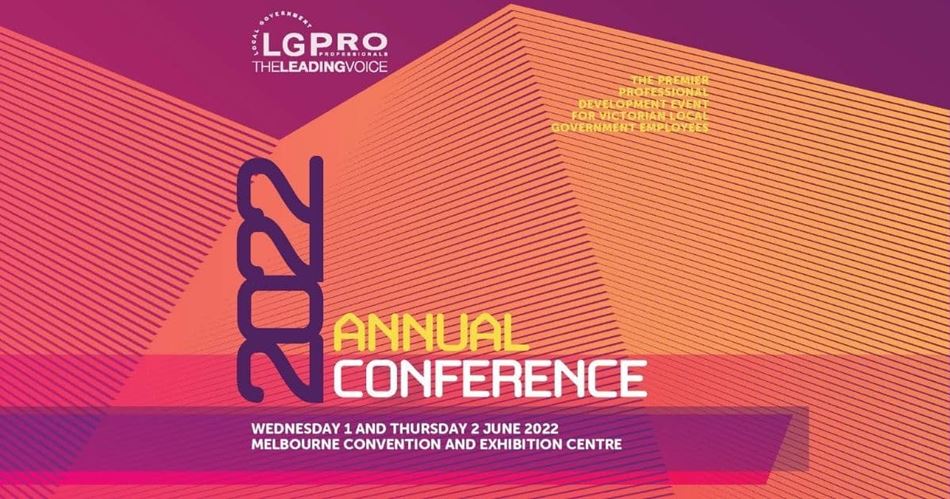 2022 LGPro VIC Annual Conference
LGPro is the member association and leading voice for people working in Local Government in Victoria.
The Annual Conference returns in 2022 for a full in-person event over two days at the Melbourne Convention & Exhibition Centre. This year's event is bringing together top leaders and forward thinkers from beyond the sector to lead the discussion, encouraging delegates to look at what they do from different perspectives while absorbing new ideas, fresh thinking and the best new practices.
The 2022 conference theme of 'Reigniting' is about taking the best of the last two years' lessons while moving on and embracing a refreshed future.
The 2022 Awards for Excellence Dinner will be held on Thursday 2 June in Melbourne Room 1 at Melbourne Convention and Exhibition Centre commencing with drinks and canapes from 6.15pm.
The Conference Welcome Event will be held on Wednesday 1 June from 5 - 7.30pm at a 'pop up' bar at The Common Man, 39 Dukes Walk, South Wharf. The event will allow learnings from the various workshops to be shared setting the scene for the conference and providing an opportunity to socialise and network with colleagues and others in the sector. Beverages and grazing boards will be provided.
McArthur - the principal sponsor of 2022 LGPro Annual Conference
Acknowledging the future challenges and embracing opportunities and changes in the local government sector, McArthur is proud to continue our long-term support as a principal sponsor of 2022 LGPro Annual Conference - Reigniting.
McArthur has been delivering recruitment and career solutions to Australian Government for 35 years. We provide recruitment solutions across all three levels, Federal, State and Local. With an uncompromised focus on quality service and minimising risk, we engage with all the sector's associations and peak bodies on a national basis and in every state. It allows us to continuously build our networks, regularly communicate with all major players and keep our finger on the pulse of industry changes and developments.
---
Event details:
When: 1 - 2 June 2022
Where: Melbourne Convention & Exhibition Centre
More information and registration, please follow the link >>2022 LGPro VIC Annual Conference<<
---
Share this Article