2020 LGPro Annual Conference - Future Ready Make the Connection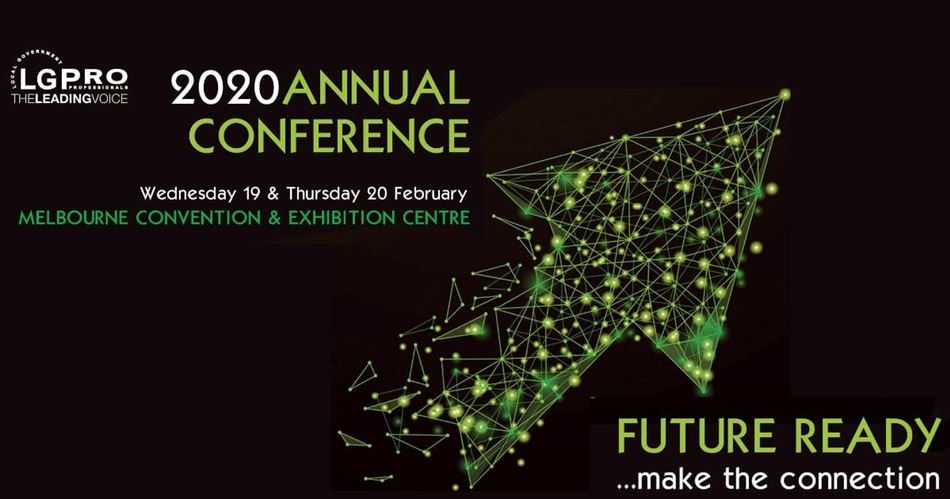 2020 LGPro Annual Conference
LGPro is the member association and leading voice for people working in Local Government in Victoria.
The Annual Conference is held in Melbourne each February. It offers professional development and networking opportunities for professionals working at all levels in the local government sector in Victoria. 
The theme of the Conference this year is "Future Ready…make the connection" with a series of workshops to provide practical tips and tools for participants to be "future ready" as well as opportunities to "make the connection" at and after the conference.
McArthur - the principal sponsor of 2020 LGPro Annual Conference
Acknowledging the future challenges, opportunities and changes in the local government sector, McArthur is proud to continue our long-term support as a principal sponsor of 2020 LGPro Annual Conference - Future Ready...make the connection.
McArthur has been delivering recruitment and career solutions to Australian Government for 35 years. We provide recruitment solutions across all three levels, Federal, State and Local. With an uncompromised focus on quality service and minimising risk, we engage with all the sector's associations and peak bodies on a national basis and in every state. It allows us to continuously build our networks, regularly communicate with all major players and keep our finger on the pulse of industry changes and developments.
2020 program details
The 2020 program features some exciting new additions to further enhance our delegate's experience including:
What is Future Ready? - An Innovation Workshop to develop your future thinking
An outsider's view - A panel of experts from 'outside the sector' providing different perspectives on how Councils need to think differently about the future
Playing well in the sandpit - Future opportunities to get collaboration right between the three levels of government
Perspectives of future leaders - The sector's emerging leaders will lead a discussion on what they think 'future ready' means
The event will feature keynote speakers and short talk presenters in addition to the new sessions outlined above. The conference will conclude on Thursday evening with the Annual Conference Dinner where the winners of the 2020 LGPro Awards for Excellence will be announced.
---
Event details:
When: Wednesday and Thursday, 19th & 20th February 2020 
Where: Melbourne Convention & Exhibition Centre
More information and registration, please follow the link >> 2020 LGPro Annual Conference <<
---
Share this Article