2019 LGPro Active Ageing & Wellbeing Seminar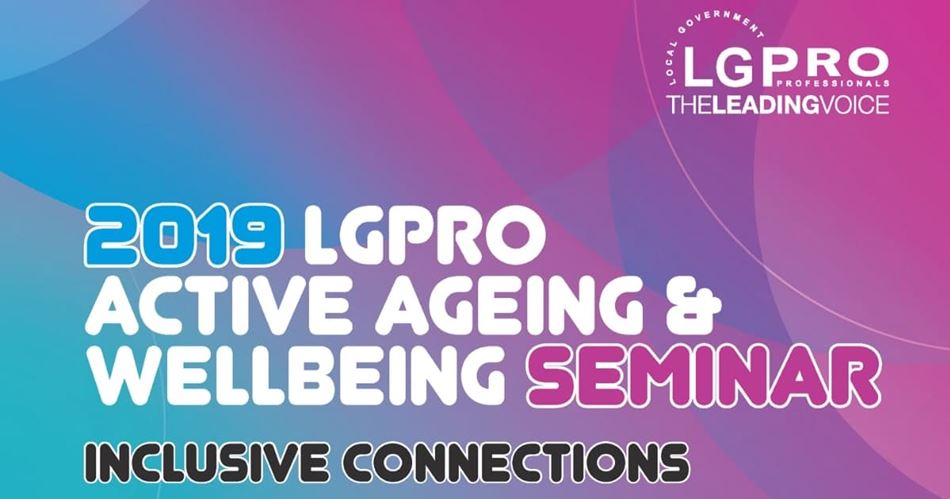 2019 LGPro Active Ageing & Wellbeing Seminar
LGPro is the member association and leading voice for people working in Local Government in Victoria.
The former Aged & Disability Services Seminar has been rebadged in 2019 as the Active Ageing and Wellbeing Seminar. The new title and focus reflect the changing nature of the sector with many Councils moving out of the direct delivery of aged and disability services and moving into the areas of active ageing and wellbeing.
This year's theme is Inclusive Connections and sessions will focus on Local Government's role in building inclusive communities to foster the ability for the ageing population, younger people (under 65 years) and those with a disability to lead full and satisfying lives.
A mission to support and promote an active and healthy lifestyle
With a mission to support and promote an active and healthy lifestyle not only within the sector but also our communities, McArthur Aged & Disability team is looking forward to attending the Seminar and the Awards Dinner. Delegates can enjoy a coffee at the McArthur Café area and talk to the McArthur team.
McArthur has been Australia's leading provider of specialist Aged Care recruitment and career solutions for over 20 years and we have consistently brought new innovation and service improvement initiatives to both clients and candidates. With an uncompromised focus on quality service and minimising risk, we engage with all the sector's associations and peak bodies on a national basis and in every state. It allows us to continuously build our networks, regularly communicate with all major players and keep our finger on the pulse of industry changes and developments.
2019 Program Details
This year's seminar includes 2 sets of concurrent streamed workshops for delegates to select from:
Set 1:

A CALL TO ACTION – THE ROLE OF LOCAL GOVERNMENT IN RESPONDING TO HOARDING AND SQUALOR
CONNECTING GENERATIONS THROUGH AN INNOVATIVE SOCIAL ENTERPRISE MODEL
Set 2:

THE IMPACT OF MEALS ON WHEELS FOR OLDER ADULTS
WELLNESS & RE-ENABLEMENT WITH A FOCUS ON DIVERSITY PLANNING
The event will then continue with presentation and demonstration titled "Increasing Wellbeing through Dance", an address of supporting older Victorians to age well and a keynote address of creating a healthy ageing pathway for trans and gender diverse people before moving to the Awards dinner.
The Awards Dinner will be held following the LGPro Active Ageing & Wellbeing Seminar. The dinner is a great opportunity for officers working in the sector to celebrate the awards and the excellent work being done by individuals and teams. 
The Seminar targets people working at all levels in Local Government who have an interest in active ageing and wellbeing including:
Sector managers, coordinators and team leaders in aged & disability services
Assessment officers
Administrators
Community development officers
Disability services managers and staff
Human resource professionals
Community services directors
Social planners
OH&S officers and staff
Social support managers and staff
Other community care providers
---
Event details:
When: Thursday, 12th September 2019 (The Seminar Registration will start at 9.00am and the Awards Dinner will start at 6.30pm)
Where: The Pavilion, Arts Centre Melbourne 100 St Kilda Road, Melbourne
More information and registration, please follow the link >> 2019 LGPro Active Ageing & Wellbeing Seminar <<
---
Share this Article