2019 IPWEA Queensland Annual Conference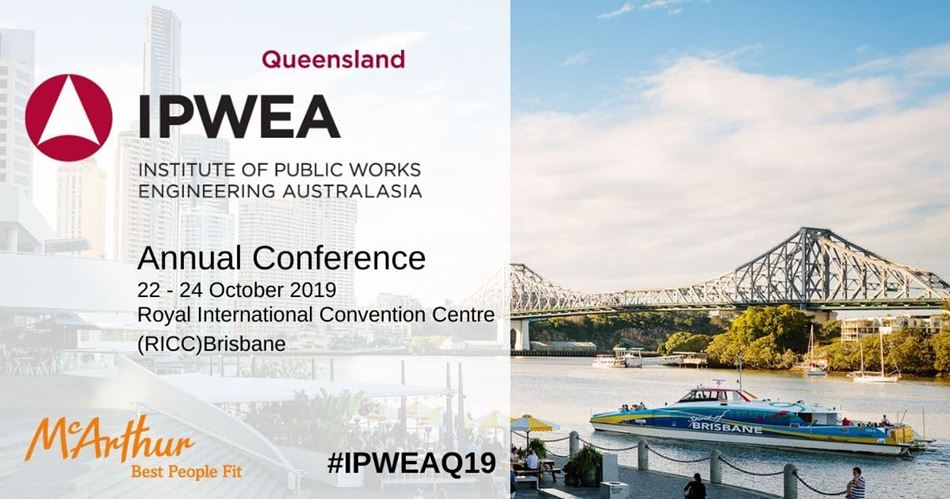 Institute of Public Works Engineering Australasia (IPWEA) Queensland is the peak body representing those actively involved in the delivery of public works and services in Queensland.
IPWEAQ's purpose is to enhance the quality of life for all Queensland communities by advancing the skills, knowledge and resources available to those involved in the planning and provision of public works and services. 
IPWEAQ Annual Conference is the premier public works event in Queensland. It has been creating an annual learning and networking platform where leading edge thinkers and professionals meet to challenge their assumptions and discuss their new perspectives and approaches. The Conference features include 4 Tech Tours, 12 Streams, 36 Papers and 50 Exhibitors in 3-days program.
McArthur is a proud sponsor of IPWEAQ Annual Conference
As a proud silver sponsor of this year Conference, McArthur continues to support IPWEAQ's mission to create a vibrant, vital, supportive community for those engaged in the public works sector which serves to enhance the quality of life for all Queensland communities. McArthur Engineering & Technical team is looking forward to attending 3-day event. Delegates can enjoy a coffee at the McArthur Café area and talk to the McArthur team.
Over the last 30 years, McArthur has continuously developed and streamlined the way we work to meet the ever-changing demands of the Engineering and Technical sector. With an uncompromised focus on quality service and minimising risk, we engage with all the sector's associations and peak bodies on a national basis and in every state. It allows us to continuously build our networks, regularly communicate with all major players and keep our finger on the pulse of industry changes and developments.
The three-day comprehensive program of learning and networking will offer diverse perspectives, an incredible line-up of keynotes, and interactive, thought-provoking sessions, discussions and masterclass designed to empower our sector to actively embrace future opportunities.
---
Event details:
When: 22 - 24 October 2019
Where: Royal International Convention Centre, Brisbane
For more information and registration, please follow the link >> 2019 IPWEAQ Annual Conference <<
---
Share this Article