2019 Excellence in Early Childhood Education and Care Conference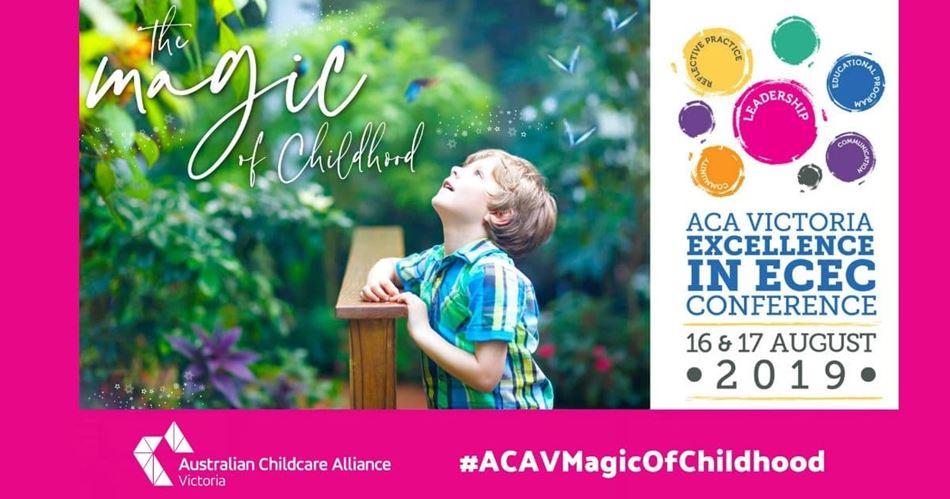 2019 ACA Victoria Annual Conference - The Magic of Childhood
The Australian Childcare Alliance (ACA) Victoria proudly introduces this year's Excellence in ECEC Annual Conference, which focuses on the magic of childhood.
The conference aims to remind educators, approved providers, directors and nominated supervisors about what drew them to working in the sector in the first place and the importance of early learning in all children's physical, cognitive, emotional and social development.
The twelve months since the introduction of the Child Care Subsidy (CCS) System have been a bumpy ride for the early childhood education and care (ECEC) sector, as it has navigated the range of challenges that have arisen from such a significant change.

After such a demanding year, the sector is ready for a boost of positive energy to improve team morale and refresh their spirits.
2019 Conference Program
Inspiration, motivation and world class education are at the heart of what this amazing line up of speakers, exhibitors and workshops will bring, all wrapped in a little "light-hearted fun".
Craig Harper, one of Australia's leading motivational speakers, specialising in the areas of health, personal transformation, high-performance, resilience and leadership, will be one of the acclaimed keynote speakers at this event. Craig will share insights into what it means to be a high performer, how we can turn our goals and dreams (theoretical 'somethings') into actual results (real-world 'somethings') and the importance of paying attention to all areas of life to reach your full potential.
He'll also run a separate workshop on the importance of developing a positive team environment – a fundamental to being able to accomplish the overall objectives and goals of the early learning service.
Mr Harper will be joined by: 
Dr Charlotte Keating– a well-known passionate advocate for mental health, particularly for young people.
Christina Dee, Forest School Learning Initiative (UK) – Director of Forest School Learning Initiative (FSLI) and a passionate advocate for outdoor learning.
Louise Dorrat and Dr Red Ruby Scarlet – In an all singing all dancing extravaganza, well known early childhood consultants and thespians Dr Red Ruby Scarlet and Louise Dorrat will provide a show-stopping closing keynote about the National Quality Framework.
In addition to the keynote sessions, delegates will have the opportunity to attend break-out sessions which have been split into three streams – Educational Leadership, Program & Practice and General Workshops, making it easy to cherry-pick the sessions most relevant to their needs.
Dr Red Ruby Scarlet will also be the Pedagogical Artist in Residence for the conference, giving delegates the chance to take part in creating a collaborative work of art which will be sure to inspire long after the conference ends.

With over 35 exhibitors, the conference provides a great opportunity for early learning service providers to talk directly to key suppliers in the sector and take advantage of a range of exclusive discounts offered to conference delegates.
Meeting McArthur Early Childhood Education Team at 2019 Conference
McArthur has been Australia's leading provider of specialist Early Childhood Education recruitment and career solutions for over 25 years.
With a commitment to support continuous professional development and deliver the highest quality early childhood education and care, McArthur continue our support to ACA Victoria as a proud Principal Sponsor of 2019 conference. Our Early Learning Team is looking forward to attending the conference on both days. Delegates can enjoy a coffee at the McArthur Café area and talk to the McArthur team. 
---
Event details:
When:16 - 17 August 2019
Where:Crown Conference Centre, Melbourne
The complete conference program is available here. 
Limited places remain, and those interested are encouraged to secure their place at the ACAVCONF19 by registering here.
---
Share this Article