2019 AASW Conference – Challenging Inequality: Working together for a just society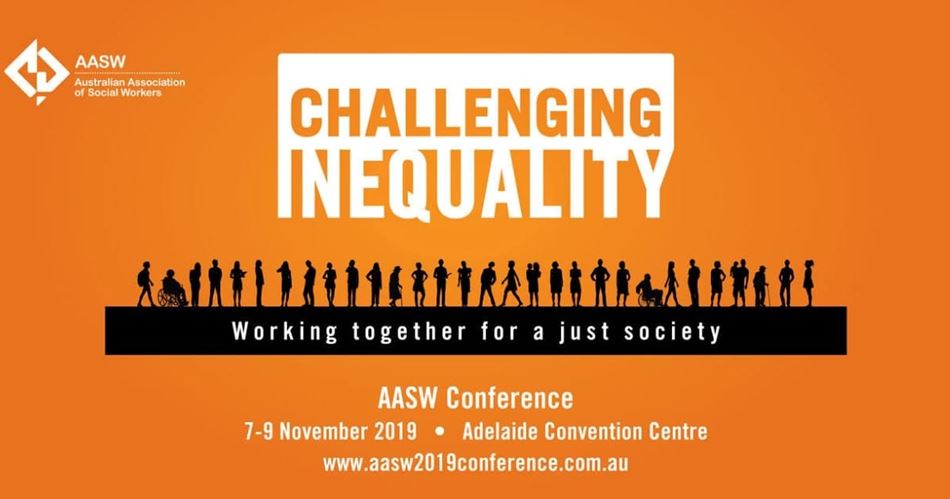 The Australian Association of Social Workers (AASW) is the professional peak body for social workers in Australia. Established in 1946, the AASW represents more than 11,000 members across Australia and overseas. The Association sets the standards for professional education and social work practice and advocates on matters of social justice, human rights and issues that impact upon the quality of life of all Australians.
Challenging Inequality: Working Together for a Just Society
2019 AASW Conference will be held at the Adelaide Convention Centre, South Australia from 7-9 November 2019. The conference will bring together members of the Australian and international health, advocacy and social services sectors. The Conference Program will include an innovative and thought-leading program, exceptional social events and many networking opportunities.
The conference session streams includes poverty and social disadvantage, human rights, Aboriginal and Torres Strait Islander peoples, health and mental health, family violence, trauma and abuse, housing and homelessness and social work.
Attracting over 600 delegates from Australia, New Zealand and the Asia Pacific region, this event will give attendees an opportunity to exchange information on the current challenges and trends in the sectors, advance networks, gain peer knowledge from leading experts and review the newest services and products on the market.
Pre-eminent presenters representing the sectors, government and policy, as well as academia and research, who are renowned thought leaders in their respected fields, will explore the latest developments in the areas of health, leadership, social justice, sustainability, research and advocacy.
Talking to McArthur Team at 2019 Conference
McArthur Social Work and Case Management has been delivering permanent, temporary and contract recruitment and career solutions to the Social Welfare, Health and Community Sectors for over 15 years.
With a commitment to support a strong voice for social justice, McArthur is proud to be a Gold Sponsor of 2019 AASW Conference.
Join McArthur team in Adelaide for the AASW Conference 2019, and let us all work together collaboratively, to challenge inequality.
---
Event details:
When: 7 – 9 November 2019
Where: Adelaide Convention Centre, Adelaide, South Australia
For more information, please follow the link >> 2019 AASW Conference <<
---
Share this Article