Dementia Awareness Training workshop for McArthur Aged Care carers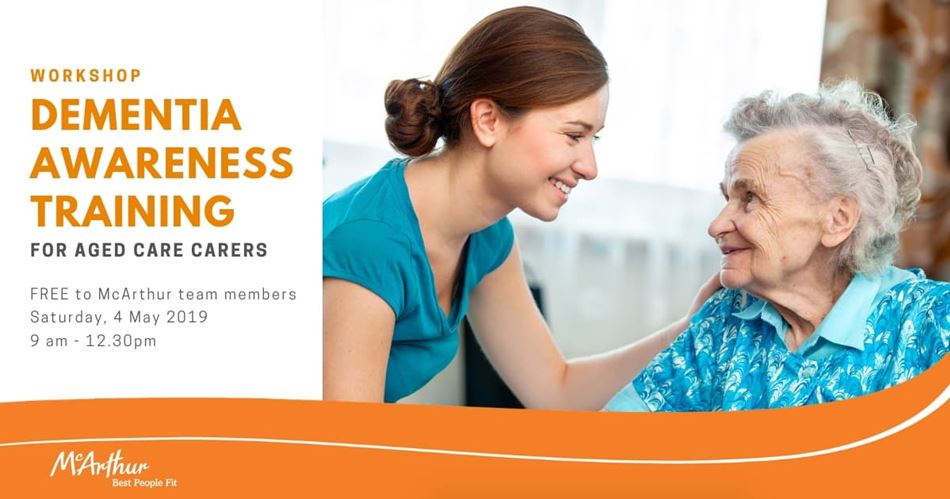 Dementia statistics
According to Australian Bureau of Statistics (ABS) in 2018, dementia is the second leading cause of death of Australians contributing to 5.8% of all deaths in males and 11.3% of all deaths in females each year. In 2019, Dementia Australia estimates 27,247 people with younger onset dementia, expected to rise to 29,353 people by 2028 and 41,249 people by 2058, as per Dementia Prevalence Data 2018-2058.
Among older Australian group from aged 65 years or older, according to Australian Institute of Health and Welfare in 2012, dementia is the single greatest cause of disability and the third leading cause of disability burden overall. In the Economic Cost of Dementia in Australia 2016–2056 states that three in 10 people over the age of 85 and almost one in 10 people over 65 have dementia. It is, hence, fundamental for Aged Care carers to gain better understanding and updated about dementia and its impacts on a person's life.
Our mission to set the benchmark for quality and care
As an Australia's leading provider of specialist Aged Care recruitment and career solutions for over 20 years, McArthur has been setting the benchmark for quality and care via our focus on professional development and service improvement initiatives to both clients and candidates.
With the mission to improve the care and well-being of both the people living with dementia and the staff delivering their care, McArthur encourages our Aged Care team members to attend our Dementia Awareness Training workshop.
This workshop includes information about dementia descriptions, symptoms and impact of dementia, changes in behaviour and communication to develop an understanding and skills to manage and support a person with dementia.
---
Details of the workshop:
Time: 9am – 12.30pm
Date: Saturday. 4th May 2019
Location: McArthur Melbourne, level 1, 199 Toorak Road, South Yarra 3141
Catering: Morning tea provided
Cost: FREE to McArthur team members
Spaces are limited so registration is compulsory.
Send your name and register your interest today to agedcare@mcarthur.com.au
---
Looking for an opportunity in Aged Care sector
Check out our current available positions
Share this Article