2022 LGPro Active Ageing & Wellbeing Seminar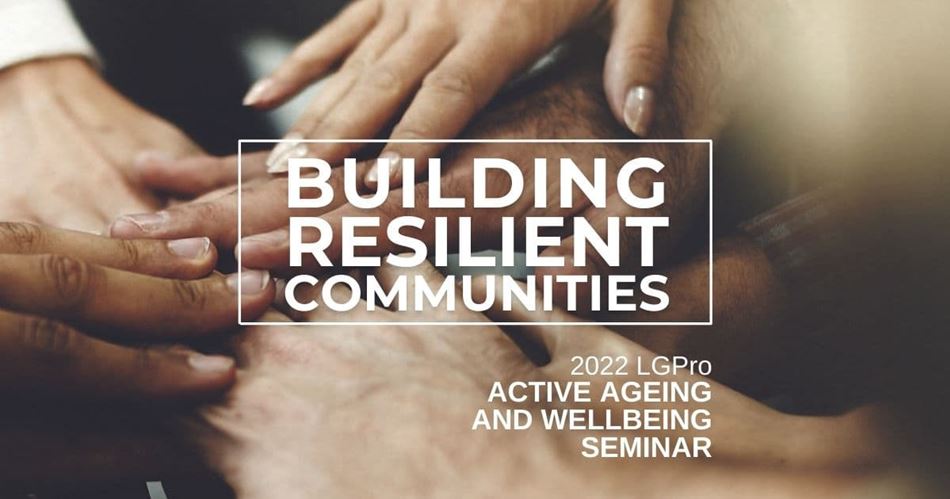 2022 LGPro Active Ageing & Wellbeing Seminar
LGPro is the member association and leading voice for people working in Local Government in Victoria.
The former Aged & Disability Services Seminar has been rebadged in 2019 as the Active Ageing and Wellbeing Seminar. The new title and focus reflect the changing nature of the sector with many Councils moving out of the direct delivery of aged and disability services and moving into the areas of active ageing and wellbeing.
This year's Seminar theme is "Building Resilient Communities" and it focuses on the different ways Local Governments are reconnecting communities in the post pandemic environment. It illustrates how councils can build community resilience, so that our ageing population, younger people (under 65 years) and those with a disability can continue to lead full and satisfying lives. This one-day Seminar includes keynote speakers, concurrent interactive sessions and presentations.
The Awards Dinner follows the one-day Seminar and includes pre-dinner drinks and a three-course meal with wonderful entertainment provided. Enjoy catching up with colleagues and celebrate the great work of our sector with a few short presentations from finalists. The winner will be announced at the end of the evening. Councils can book both individual tickets or a table.
This year's program was developed with participation from members of the Aged & Disability Service, Family, Youth & Children and Rainbow Special Interest Groups.
A mission to support and promote an active and healthy lifestyle
Proudly sponsoring this year event, McArthur Aged Care team is looking forward to catching up with fellow delegates at the Seminar and the Awards Dinner.
McArthur has been Australia's leading provider of specialist Aged Care recruitment and career solutions for over 20 years and we have consistently brought new innovation and service improvement initiatives to both clients and candidates. With an uncompromised focus on quality service and minimising risk, we engage with all the sector's associations and peak bodies on a national basis and in every state. It allows us to continuously build our networks, regularly communicate with all major players and keep our finger on the pulse of industry changes and developments.
---
Event details:
When: Thursday, 31st March 2022
Where: Arts Centre Melbourne 100 St Kilda Road, Melbourne
More information and registration, please follow the link >>2022 LGPro Active Ageing & Wellbeing Seminar<<
---
Share this Article