2019 MAV Annual Conference and Dinner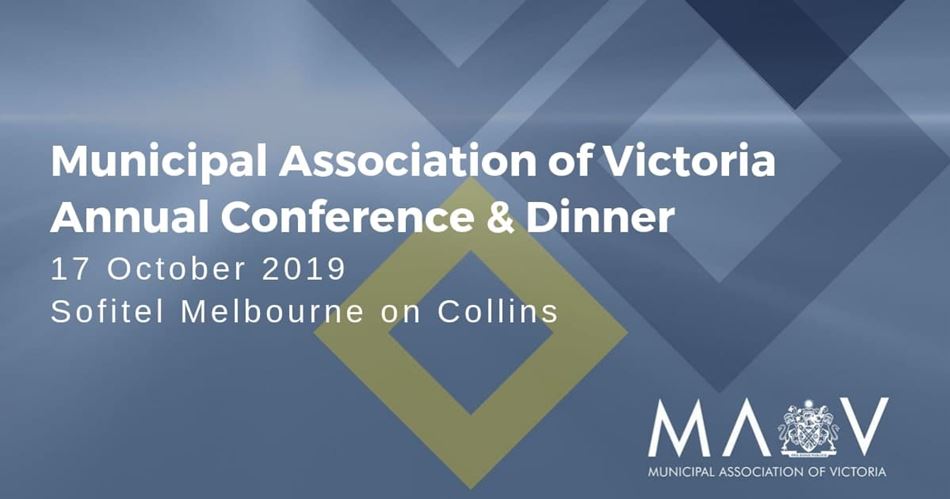 The Municipal Association of Victoria (MAV) is the peak representative body for local government in Victoria. The MAV has a legislated responsibility to represent the interests of councils through policy formulation, advocacy work and insurance services.
The MAV has been long-recognised as an influential and respected representative body by both local and state government.
Local Government: looking at big issues and big vision
The MAV Annual Conference and Dinner this year explores prominent local government issues and future challenges facing the sector, as well as providing an understanding of emerging services and capabilities to assist and improve councils.
Confirmed speakers include the Hon Michael O'Brien MP, Leader of the Opposition and Samantha Ratnam, Leader of the Victorian Greens. There will also be a talk on climate change through a finance and liability lens, a CEO panel on local government from the outside and a panel discussing future directions of waste and recycling.
With an audience comprised of councillors, mayors, CEOs and senior management from Victorian local councils, over 150 delegates are expected to attend the single day conference program, while over 250 are expected to attend the gala dinner.
McArthur is proud to sponsor 2019 MAV Annual Conference
McArthur has been delivering recruitment and career solutions to Australian Government for 35 years. We provide recruitment solutions across all three levels, Federal, State and Local.
With an uncompromised focus on quality service and minimising risk, we engage with all the sector's associations and peak bodies on a national basis and in every state. It allows us to continuously build our networks, regularly communicate with all major players and keep our finger on the pulse of industry changes and developments.
We look forward to catching up with all delegates at the conference
---
Event details:
When: Thursday, 17th October 2019 (The Seminar Registration will start at 8.30am and the Dinner will start at 6.30pm)
Where: Sofitel Melbourne on Collins – 25 Collins Street, Melbourne
Please follow the link for the full conference program >> 2019 MAV Annual Conference and Dinner <<
---
Share this Article