2019 Early Childhood Australia National Conference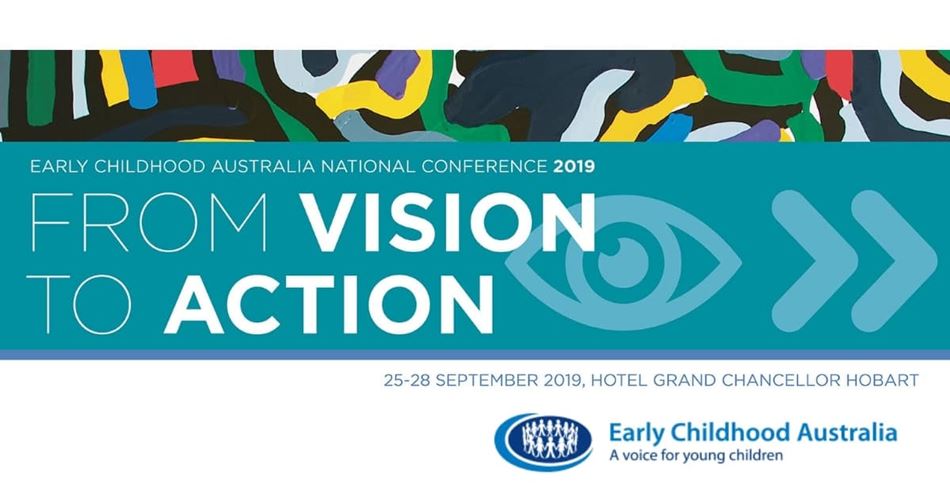 Early Childhood Australia (ECA) has been a voice for young children since 1938. ECA is the peak early childhood advocacy organisation, acting in the interests of young children, their families and those in the early childhood field. ECA advocates to ensure quality, social justice and equity in all issues relating to the education and care of children aged birth to eight years.
​From Vision to Action
From vision to action is the theme for Early Childhood Australia's (ECA) National Conference, to be held in Hobart, Tasmania, from 25–28 September 2019. The 2019 conference will expand on ECA's strategic priorities to progress its vision of 'Every young child is thriving and learning'.
This conference will explore current and emerging practice to enhance young children's experiences across the spectrum of service and education settings they attend. This includes early childhood education and care (ECEC) as well as the early years of school, outside school hours care and child/parent programs such as playgroups and family centres. The conference will engage participants in a discourse on rights, well-being and quality improvement to facilitate deep reflective thinking to enhance ongoing professional learning and development.
Our commitment to support best practices and career development
McArthur has been Australia's leading provider of specialist Early Childhood Education recruitment, HR consulting and career solutions for over 25 years.
The conference is an excellent opportunity for McArthur team to join leading experts and learn the latest in early childhood. We look forward to discussing current standards and enhancing our knowledge to assist educators and centres to deliver the best education and care for young children. Delegates can enjoy a coffee at the McArthur café area and talk to the McArthur team. 
---
Event details:
When: Wednesday – Saturday, 25 - 28 September 2019
Where: Hotel Grand Chancellor,Hobart, Tasmania
Registration link: https://www.ecaconference.com.au/
---
Share this Article